Carestream Cassettes and Screens
Screens and Cassettes for Mammography
Mammography Screens
MIN-R Screens advanced technology that optimizes the performance of mammography films. The Film-Screen Systems include: MIN-R EV, MIN-R 2000 and MIN-R 2190 screens

Mammography Cassettes
Designed for use in mammography imaging, MIN-R 2 Cassettes is integrated as part of the MIN-R Film-Screen system.
Screens and Cassettes for Radiology
X-OMAT Regular Intensifying Screen
Designed for use with X-OMAT films and other blue-sensitive films. These screens incorporate phosphors that convert x-ray energy into blue light, predominantly ultraviolet.

LANEX Screens
LANEX Screens, rare-earth screens for a range of general radiography applications, such as chest x-rays, tomography, and pediatric studies. Use with T-MAT/RA films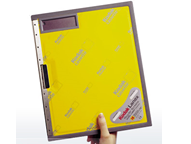 Availability
Merry X-Ray / SourceOne Healthcare only sell inside the United States.
Call Customer Service at 800-633-9729 for ordering information.