Agfa Cassettes and Screens
CURIX Cassettes
Lightweight, durable, easy-to-use cassettes offering maximum patient comfort.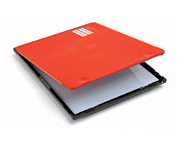 Key benefits
Excellent diagnostic results.
Lightweight but durable.
Made of Novodur, for optimum patient comfort.
Innovative design for ease of use.
Dedicated mammography cassette available.
The CURIX Cassettes combine reliability, durability, comfort and minimum weight in one cassette. They are made from Novodur, an extremely tough but light plastic, which feels warm and soft to the patient. Rounded edges increase patient comfort even further. What's more, the Novodur makes the cassettes 25% lighter than metal cassettes.
CURIX cassettes are easy for staff to handle, and open 270º for easy loading and unloading. At the same time, they provide excellent diagnostic results.
Cassette Types:
Curix Cassettes with Quanta Rapid Screen Combinations
Curix Cassettes with Ultra Screens
Curix Cassettes with Ortho Screens
Screen Types:
Curix Ultra Detail, Ortho Regular and Fin, Ultra Super Rapid
Availability
Merry X-Ray / SourceOne Healthcare only sell inside the United States.